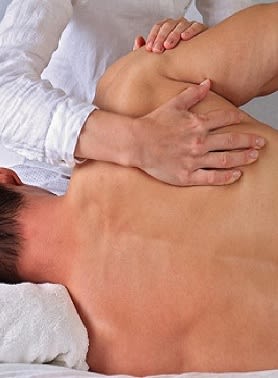 OSTEOPATHY
OSTEOPATHY is a form of manual therapy which recognizes the important link between the structure of the body and the way it functions. Now it is very much possible to get treated with osteopathy in Hanumangarh. Osteopaths in Hanumangarh treat a wide range of patients.
Excellent results on INCH LOSS with Osteopathy Therapy in Hanumangarh has been observed. This concept came first time in India!
It covers two techniques:
Craniosacral Therapy
Craniosacral therapy is an upcoming treatment of choice in reducing pain, rehabilitating and neurological treatment. It is also known as Cranial Osteopathy Therapy (CST) Which is a gentle, non-invasive hands - on technique.
Visceral Osteopathy
Visceral Osteopathy assists functional and structural imbalances throughout the body including musculoskeletal, vascular, nervous, urogenital, respiratory, digestive and lymphatic dysfunctions. It increases proprioceptive communication within the body, thereby revitalizing a person and relieving symptoms of pain, dysfunction and poor posture.
How It Can Help
It helps to restore misalligned bones to their proper position.
Releases abnormal restriction in the head.
Helps to restore normal cranial mobility.
Eases restriction of nerves.
Optimizes craniospinal fluid movement through the central nervous system

Few conditions where osteopathy is beneficial
Muscle and joint pain or injury: Spondylosis (cervical and lumbar)
Gross and fine motor problems
Many neurological conditions and pain syndromes
Headache: migraine, vertigo,dizziness
Visual dysfunction, diplopia
Recurrent ear infection,imbalance,tinnitus
Infant Latching and feeding difficulties
Birth traumas and other prenatal challenges
Cerebral palsy and down syndrome
Optimizes craniospinal fluid movement through the central nervous system

Other Condition that can treated by Osteopathy
Multiple sclerosis
Hydrocephalous
Motor neuron disease
Stroke/hemiplegia
Parkinsons
Sinusitis
High palate
Sleep disorders: sleep apnea
Morbid obesity
Psychosism
Depression
Psychosomatic disorders
Maniac disorders
Attention deficit disorders
Irritable bowel syndrome
Constipation
Esophagus reflux
Hypertension
Diabetes mellitus type 2
Hypoactive/hyperactive child
Dr. Amit Arora is one of the famous osteopathy doctor in Hanumangarh and her patients are happy with the treatment by physical exercise and osteopathic medicines in Hanumangarh.