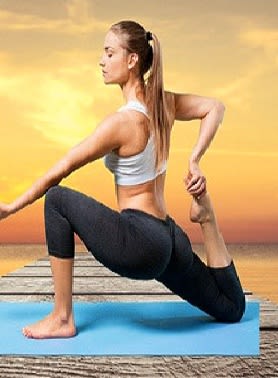 WOMAN'S WELLNESS
Women's health is one of the major concern worldwide.Women undergo many physiological, hormonal and emotional changes throughout their life span. From adolescence to menarche, marriage to child bearing to menopause and beyond a woman's body undergoes several changes which can lead to various orthopedic and metabolic disorders. Regular physical exercises can reduce the frequency and severity of the symptoms related to these problems and thus helps in elevating the general health of the women.
Do you suffer from these symptoms ?
Menstrual pains and body aches
PMS
Lack of sleep, fatigue, weakness in the body and Urinary incontinence
Leakage of urine
Osteoporosis
PCOD, polycystic ovaries
Joint aches and pain
Hot and cold flushes
Obesity
Depression
Diastasis recti
Thyroid
Mood swings
Ligament laxity
Night sweats
Stress
Wrinkles on face
Arthritis
Post-delivery weight gain
women wellness

What you get?
We matched the quality of service you need with the relaxing atmosphere you want.
State of the art Services
Stress Management Clinic
Antenatal exercises during pregnancy
Post-natal execrcises after delivery
Exercises for diastasis recti
Gym / workout for menopausal women
Exercises for osteoporosis
US FDA approved equipments
Craniosacral therapy
Osteopathic joint adjustment
Body and mind conditioning
Pelvic floor exercises ( kegel exercises)
Taping
Lymphastim
i-Lipo
Diet for menstrual / bleeding problems
Weight loss, inch loss
Weight gain
Body shaping / body sculpting the scientific way.
Pilates
Group yoga
Emg biofeedback for pelvic floor muscles
Core training
At we, We offer the best craniosacral therapy in Hanumangarh. Not only this, but we keep in mind the changes and with a thorough assessment of the physical, physiological & mental condition certain specific exercise prescription is prepared catering to all the needs taking precautions of any hazards of exercises that need to be restricted in some individuals. It is indeed an initiative taken by the team to bring awareness of women's health in our communities to contribute significantly towards the health promotion in women.